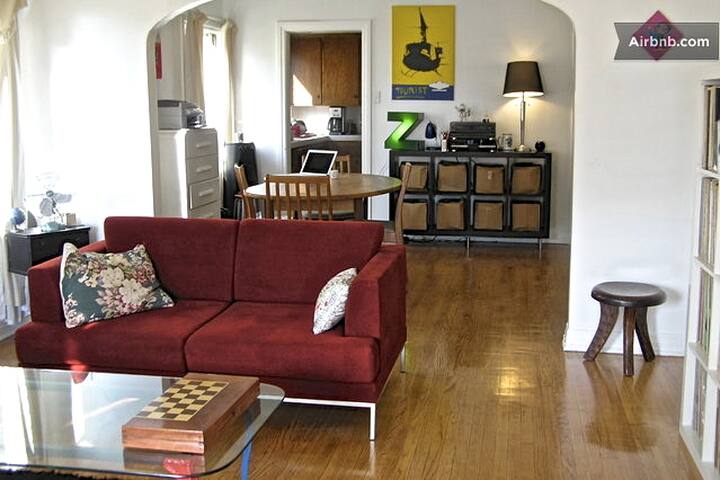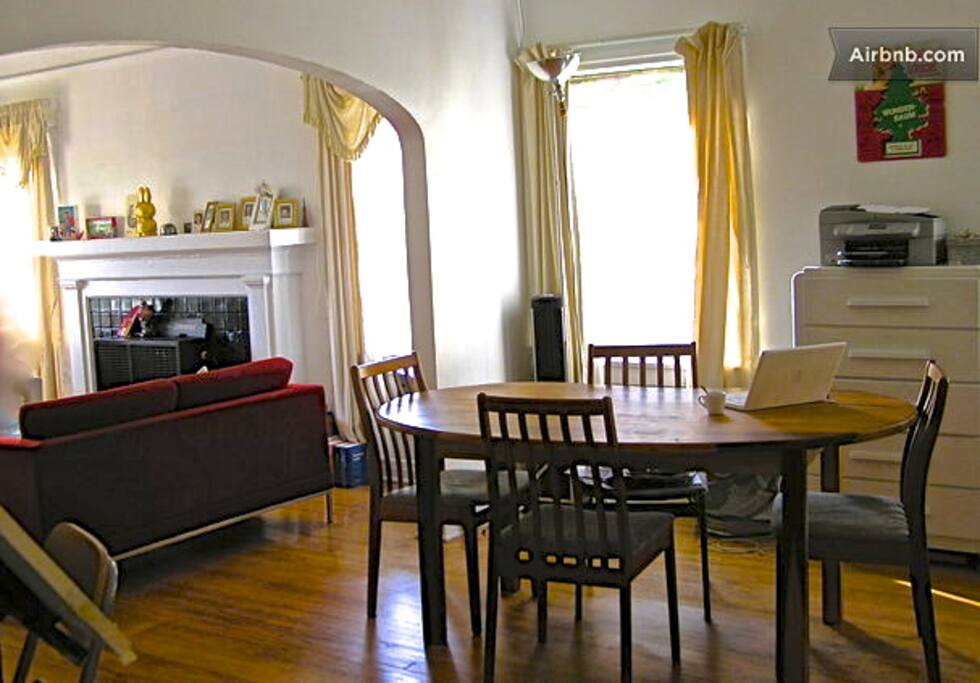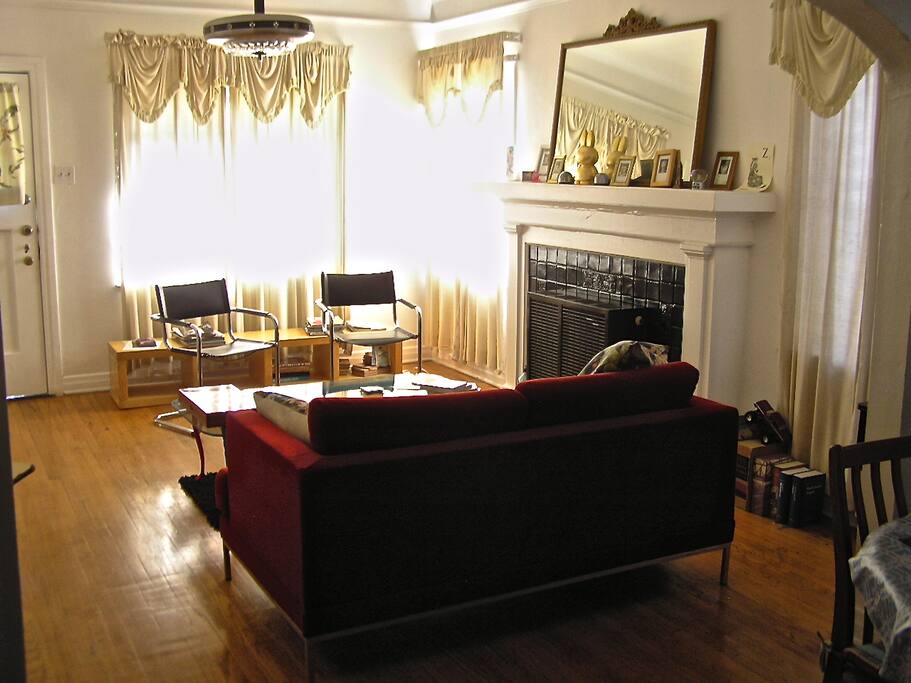 Intera casa/apt
5 ospiti
2 camere
4 letti
Su questo annuncio
Hello...
Nice people welcome to stay at my large and lovely 40's era apartment in the hilly and historic Victor Heights(Echo Park) area of Los Angeles... just East of Hollywood and North of Downtown. I'm also so close Dodger Stadium you can practically catch a fly-ball from here...or else just walk over and catch a game. The apartment is located near the top Victor Heights so you'll also be able to see the magnificent Downtown LA skyline from the top of the street(see pics)!
---
Animali:
Alcuni animali domestici
Tipologia alloggio:
Intera casa/apt
---
Cucina
Uno spazio in cui gli ospiti possono cucinare
Essenziali
Asciugamani, lenzuola, sapone e carta igienica
Altro
---
Ospiti extra:
14€ / notte dopo 2 ospiti
Termini di Cancellazione:
Rigidi
---
Hello...
Nice people welcome to stay at my large and lovely 40's era apartment in the hilly and historic Victor Heights(Echo Park) area of Los Angeles... just East of Hollywood and North of Downtown. I'm also so close Dodger Stadium you can practically catch a fly-ball from here...or else just walk over and catch a game. The apartment is located near the top Victor Heights so you'll also be able to see the magnificent Downtown LA skyline from the top of the street(see pics)!
• The rooms each come with Queen sized bed, dresser, mirror, etc, and the rest of the house has a nice relaxed vibe with light and airy rooms, beautiful arched ceilings and hardwood flooring throughout.
• If you're with a larger group I also have a queen-size Aerobed, in which case the house can sleep up to 6 people comfortably (though do keep in mind that there is one bathroom only!).
• The apartment is on the ground floor of a 4 unit building with several steps leading to the front door and has thus limited wheelchair accessibility. That said, the stairs are fairly wide so if you use a wheelchair and think this would not be a problem you would be very welcome and I would be happy to assist however I can.
* I do not use cable, but do have a TV-monitor with DVD player, as well as Netflix, which can be watched on the monitor in the living room via a Wii-player - I also have some Wii games and Guitar Hero... :D
In short::
• 2 bedroom/1 bath house.
• Sleeps up to 6
• $300 security deposit.
• Over 30'ers generally preferred, but will consider younger guests (parents with children are always welcome).
• Non smoking house.
• No shoe house (keeps the lovely wood floors lovely!)
• One off street parking space + free street parking.
• Hi-speed wireless internet.
• Free Netflix
• Washer and drying line.
• Safe neighborhood, nice neighbors.
• Will consider 1 or 2 dog/s with extra cleaning fee ($8 per day, per dog).
• No charge for children under 3 years old.
Living room; 700 sq.ft.
Kitchen; 60 sq.ft.
Bathroom; 40 sq.ft.
Bedroom 1; 110 sq.ft.
Bedroom 2; 120 sq.ft.
*********************************
Regarding pets/pet allergies: Whereas there are no pets living here now, because I've had 1 or 2 guests staying here with a dog, I've aired on the side of caution and put 'Yes, cats/dog live here'. *** That said, the house has all hard floors, so If you're allergies are not too severe and you think that it would be enough to prevent discomfort, for an extra fee of $45 I would be happy to remove all area rugs and cover the sofa with a clean pet-free cover, and remove all sofa all cushions, and as well have my cleaner double vacuum & mop, etc for you. If you think that this would work for you, or if you have other suggestions that may help, please be sure to let me know and I will be glad to do what I can.
*********************************
• Price includes use of all pots, pans, dishes, juicer, espresso machine, linens, towels, bedding, Hi-Speed Internet, Wii-player, Netflix, etc., as well as one off-street parking space.
* There's also a washing machine and an eco-friendly solar powered drying system!*
*...that's a good old-fashioned drying-line, which, in average California weather usually dries clothes in 20-40 minutes.

I will always try to meet with you at the apartment when you arrive, whenever possible, but please also keep in mind that next to renting my place out, I also work full-time, and also must travel a lot for my work. It is for this reasons that I am able to rent out my home in the first place.
In the event that I cannot meet with you, I will have my cleaner put keys in an outside key-bow for you, so that you will be able to let yourself into the apartment. I will then also try to call you within a couple of hours of your arrival, to be sure that you were able to get in and find everything alright.
I am also almost always available to receive a call, if you have any questions of problems.
Wikipedia description: 'Victor Heights, nicknamed "Forgotten Edge" by long time residents, is an eclectic and hilly neighborhood in the city of Los Angeles making up the most eastern section of Echo Park, a neighborhood located just northwest of Downtown Los Angeles. It is situated north of Sunset Blvd., northeast of Angelino Heights and conveniently west of the 110 freeway by Chinatown. The neighborhood considers Elysian Park its backyard as it lies adjacent to and is literally a stones throw due south of the park. It is a mix of new and old housing styles as well as residents who span the socioeconomic and ethnic spectrum. Unknown to most Angelinos but a well kept secret by some, the hillside commands sweeping views of Los Angeles and the Downtown skyline. Some residents have southeast views all the way to Long Beach, a glimpse of the Pacific Ocean towards the west, or a span of the Hollywood Hills.

From here you can drive, bike, bus, tram or even walk to Downtown LA and Little Tokyo to the South, or to eclectic Echo Park & Silverlake to the West, while Chinatown is just a short walk to the East, and the gorgeously green Elysian Park(LA's second largest park) is just behind our place to the North. Super centrally located thus, we're just three blocks to the Metro Yellow line and a mile from Union Station(where you can get the 'Fly-Away' to/from LAX). If you're with car I'm also just a short drive to 4 major freeways [though none near enough to hear traffic! ;]
BY CAR: the rental includes one reserved parking space, and is easily accessible to several freeways (101, 5, 2 and 110)
BY FOOT: (easier than you may think),the apartment is about a 10 minute walk to Sunset Blvd, where there are several buses that will connect you to greater Los Angeles, including nearby Silverlake, Chinatown, Downtown, Little Tokyo and Hollywood, as well as to Union Station, LAX and all other points west.
****** That said, please note that the apartment is near to the top of a rather steep hill, so whereas this provides sweeping views of the city, this may not be walkable for all guests.******
* PLEASE BE SURE TO READ OVER MY PROFILE, LOCATION, AMENITIES AND HOUSE RULES SECTIONS...and *PLEASE*PLEASE*PLEASE do contact me *PRIOR* to making a reservation request! ...sorry for typing so loudly but many of these points seem to often be overlooked and I then get all sorts of questions that are already listed here :?
**********************************************************************
IS IT QUIET?
The apartment is just up from Sunset Blvd, so whereas it's at a *perfect* location to explore this great neighborhood from...even by foot, this also means that it may not always be the quietest neighborhood. So please do bare in mind that paired with the beautiful views of downtown LA…
• You may hear helicopters circling at times.
• You may hear sirens on Sunset Blvd 
• Dodger Stadium visitors - driving around searching for free parking, and/or celebrating or cursing a game just seen.
• Peacocks & peahens! Yep…this is one of the only area in LA that boosts these beautiful ~ but sometimes very noisy ~ birds as it's neighbors!
**********************************************************************
The listed price can vary for different months to reflect high and low seasons, holidays, etc. So as well as checking the present rate, please check to see what the price would be for the period that you are looking, as this could be more or less than what is listed above. To do this, type in your dates in the 'Book it!' box on the first page of my listing(you will not have to book at this point).
**********************************************************************
Please note that I *ONLY ACCEPT RESERVATIONS FROM GUESTS WITH A *CLEAR* PROFILE PICTURE *OF THEMSELVES*. This means *OF YOU*...not your baby, not your dog, not a sunset taken on your last holiday....you.
Please understand that I would like to see a picture of the person that may be renting my place. I also strongly encourage you to look over my profile and pictures as well. :)
**********************************************************************
Please feel free to message me for any additional information.

Altro
---
*eco*green*eco*green*eco*green*eco*green*eco*green*eco*green*eco*green*eco*green*
• No shoes in apartment - to keep the lovely wood floors lovely!
• No smoking anywhere in apartment.*
*Smoking on the front is porch okay, as long as front screen door is kept closed, ashtray is emptied after use, and no smoke is being drawn into next door neighbor's apartment.
• I will consider 1 or 2 smallish dogs with an extra cleaning fee of $8 per day, per pet. This fee is used solely for the extra time that it takes to have floors double swept and mopped so that the apartment may still be rent-able to guests with allergies. That said, this does *not* cover any stains, chew or scratch damage, or excessive hair on sofas, rugs, beds, etc., which if left behind will be deducted from the security deposit. Sorry to have to be so strict about (URL HIDDEN) just that I've found that this often costs a lot of extra time and to get cleaned!
• $10 lost key fee, per key.
• It is not necessary to strip beds or wash linens before leaving, but guests *are* required to leave all dishes & other used kitchen wares, washed, dried and put away. Unwashed dishes will result in a $25 deduction to the security deposit.
• All trash must be removed and placed in the containers at the back of the building. Black containers are for regular trash, and blue containers are for recycle (glass; paper; aluminum; plastic). Please do not use the green containers, as these are reserved for garden waste only. and remove any/all trash. Any left trash with also result in a $25 deduction to the security deposit.
• Please note that Southern California is experiencing it's ***worst drought since 1200 years*** and that Los Angeles is expected to run out of it's water reserves by 2016!!! So *please* be careful with your water use, by;
• Limiting showers to 5 to 8 minutes
• Using dishwasher or dish pan(under sink) to hand wash and rinse, rather than leaving the tap open when washing dishes.
• Filling bathroom sink to shave, rather than running tap.
• Never run tap water to brush teeth, but just turn on to rinse as needed.
Thanks for your understanding :)
Altro
---
soggiorno minimo 30 notti
---
Il tuo Host
---
Los Angeles, California, Stati Uniti
·
Membro da Marzo 2010
About me / About you: *****************************
Me: I'm fairly creative and run my own business and I am health conscious. I love my work as well as my fun. I prefer a clean house but can be messy at times in my own room and around my desk area when life gets busy (though I do try to keep this contained). I am generally cheerful and brave, and enjoy celebrating this world's great things, while remaining sedulous in the strive for melioration. I like to bike, run, read, work, laugh, cook, eat, question authority, talk to strangers on the bus, and see and hear live music. I am a clown, a romantic, a philosopher, and a maniac...maaaaniac on the dance floor (order changes according to situation). My origins lie in NYC but I've been growing up all over the place, with recently 20+ years in Europe and the U.K.*****************************
I try to live as sustainably as is possible in the big city, and am an avid supporter of bike and public transport use, and do not own a car(by choice!). Contrary to popular belief ~ this IS possible in LA! *****************************
I volunteer for The LA Homeless Services Authority and The LA Food Bank *****************************

You: Are pleasant and easy to be around, tidy and have Eco habits or are open to a little adapting.*** Most importantly, you are a kind, considerate, and conscious individual.
Altro
Esplora altre opzioni a Los Angeles e nei dintorni