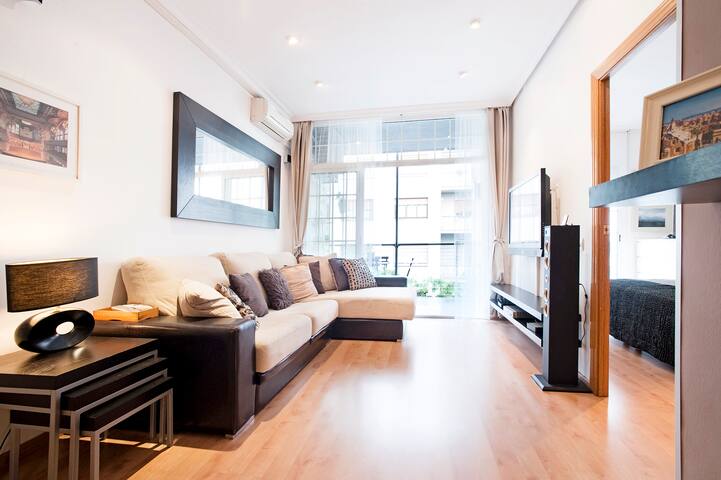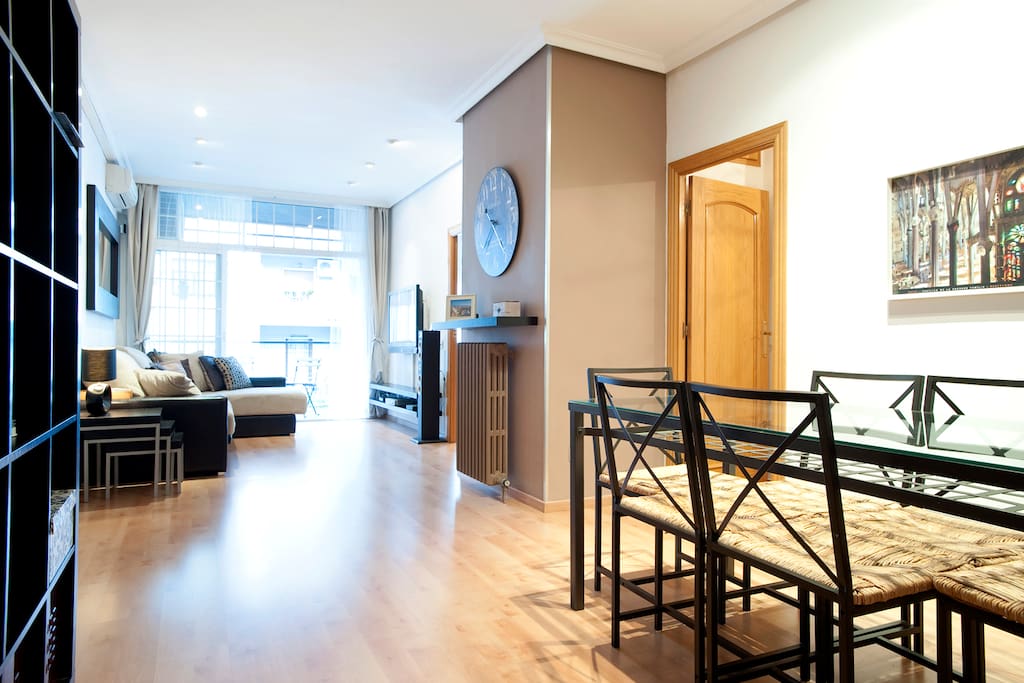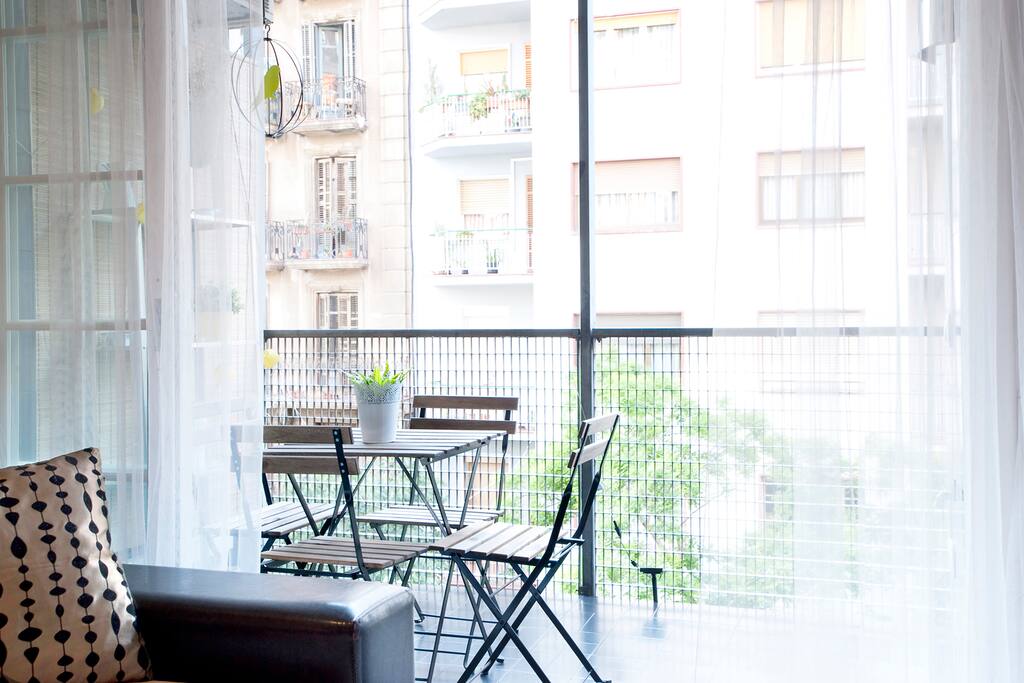 Su questo annuncio
My sweet apartment is renovated and decorated with much love located in the center of Barcelona
-the apartment have 4 double bedrooms plus extra bed.
-Air con plus central heating, kitchen, balcony and a large dining hall. The apartment has 2 air conditioners.
-:)
---
Tipologia alloggio: Intera casa/apt
---
---
Ospiti extra: 25€ / notte dopo 6 ospiti
---
My sweet apartment is renovated and decorated with much love located in the center of Barcelona
-the apartment have 4 double bedrooms plus extra bed.
-Air con plus central heating, kitchen, balcony and a large dining hall. The apartment has 2 air conditioners.
-:)
Barcelona is beautiful 365 days a year
To enjoy it, we give you a flawless and beautiful apartment located in the center of Barcelona, in the same Paral • lel (iconic and great charisma and symbolism in Barcelona Avenue).
The apartment is very spacious, with lift, and is very well connected.
Apartment for 8 people
Comprising 4 double rooms with everything they need to be extremely comfortable ... provide clean sheets and towels set of 2 per person
,
2 bathrooms spotless have hairdryer and set of 2 towels per person ... - :)
one of the bathrooms have a big bath the other have a great great powerful shower,
shampoo and moisturizer is ready
1 large living room with a fantastic table and sofas to relax + plasma TV
We have a beautiful terrace for cozy evenings at sunset
The flat has a powerful wifi several people can work without problem
The kitchen is complete with everything you need:
Glassware, cutlery, crockery, table linen, kitchenware, etc.) -Washer, dishwasher, microwave, fridge freezer, microwave, coffee maker, * provided with water, tea, coffee and biscuits for breakfast ...

The entire apartment has air conditioning and heating ...
The building features a porter ..
I will leave Barcelona maps
If you have a sweet baby I will make a comfortable cradle ...
Enjoy my apartment and Barcelona
at your arrival at Barcelona all will be arranged for a perfect and warm welcoming check in
all the information about mi city and about the apartment will be tell
life is good
*making things easy is easer
during all the booking process please ask any information you need
once you are in Barcelona i can help with any thing you need
i just want mi guess to feel good
Information about the Neighborhood and Barcelona

The apartment is located in a super central Barcelona: 10 minutes from Ramblas 10 minutes from Plaza Catalunya 10 minutes walk to the sea arrownd the apartment area is full of cafes and bars to eat for a very good price ... We are conveniently located in the city. Near all major subway lines, most tourist attractions and the center point of different dining options, shopping malls, etc.. From where you are, you can walk around and dive into the city, from the most traditional of Barcelona - the capital of Catalunya, to the immigrant Barcelona, the tourist Barcelona, and the modern and avant-garde Barcelona conceived by Joan Miró and Ferran Adria. Nearby, we have the barrio of Sants, a traditional neighborhood with many local people, shops and typical Catalonian and Spanish restaurants. Another traditional neighborhood is Nova Ezquerra d'Eixample, up from Tarragona Street. Plaça Espanya has developed a lot in recent years, with the recovery of the Parc Joan Miró, with Fira Barcelona - Montjuic hosting some of the most importante business fairs, and the newest shopping mall: Las Arenas de Barcelona. An old bullfight arena where has been transformed into a modern shopping and entertainment center, but had its original external architecture fully preserved. An amazing job. Tourism There are many City Guides available, with countless things to do - it can be a bit overwhelming. That's why we offer you some of our suggestions of what we think are the most important and interesting places to visit. Tourist attractions: How to get there: Some of the attractions are a walking distance from the flat. If not, you can take the Metro or the Bus Turistic. Metro: We're very close to the Line 3 (green) and Line 1 (red). The green line takes you to most tourist attractions. If you're thinking of using the Metro to go around, the best option is to buy a T10 ticket. With it you can use 10 trips in the Metro or Bus (or a combination of both). Bus Turistic: it's a good and practical option to get to know the whole city in a short period of time. You can catch the bus from any point. There is stop in Plaça Spain, and also an Information Point. There are tickets for 1, 2 or 3 days, and you can hop on and off whenever you want. The bus offers audio guides in several languages. Earphones are provided. There are two routes. One of them goes to the mountain and the other to the beach. They cross each other in two stops, and you can change line whenever you want. Most visited places: •Casa Milá (La Pedrera): It's a must-see tourist attraction. It's located on Passeig de Gracia and inside you'll find a museum of the architect Antoni Gaudí. The house, like so many other famous buildings in Barcelona was built by the architect, and represents the perfectionism of his style. The roof of the building is a authentic garden of outdoor sculptures. Calle Provença 261-265 x Passeig Gràcia M: Diagonal- L3 y L5 •Sagrada Familia: El Templo Expiatorio de la Sagrada Familia is Gaudi's masterpiece and the greatest exponent of Catalan modernist architecture. The Basilica is the most visited monument in Spain. Its beauty and size will cause, at first sight, an impressive and exciting impact. Calle Mallorca 401 M: Sagrada Familia L2 y L5 •Park Güell: is a public park with gardens and architectural elements, located in upper Barcelona, from where you have a very nice view of the city. •Again, we have a symbol of Gaudí's artistic fulfillment, and an important part of the beauty of Barcelona. •Calle D'Olot 5 M: Lesseps – L3 •Las Ramblas / Barrio Gótico / el Born: Knowing and walking down Las Ramblas and its surroundings is a must. Las Ramblas is a pedestrian street with shops and street artists, and small alleys that have a multitude of stores, bars, restaurants, cathedrals, museums, etc.. It starts just by Plaça Catalunya which is the main city square. It's always busy, day and night. Plaça Catalunya – Ramblas - Born M: Catalunya / Liceu – Drassanes - L3 / Jaume – L4 •Fuentes Mágicas de Montjuic: plase don't miss this spectacle of water and lights. It's just by our flat! Go to the base of the National Art Museum of Catalunya, in Plaza Spain and check the water fountain. At first it will be only illuminated by the colorful lights, but wait until the show begins. It's really beautiful. Fun fact: this attraction was built in 1922! PL Carles Buigas 1 Horários: del 07/01 al 14/02: CERRADO del 15/02 al 30/04: viernes, sábados y 31 de marzo: 19h/19:30h/20h/20:30h del 01/05 al 30/09: jueves a domingos: de septiembre: Piromusical de la Mercè del 01/10 al 06/01: viernes y sábados, 25 y 26 dic, 1 ene: 19h/19:30h/20h/20:30h Museums: •Fundació Joan Miró: It was conceived as a cultural center to disseminate new trends in contemporary art. It is one of the great projects created by this painter and sculptor, considered one of the leading representatives of surrealism. The museum is home to many well-known works of the public, and well worth the visit. Parc de Montjuic s/n M: Parallel – L3 •Teatro Museo Dalí – Figueres: In the ruins of the building of the former Municipal Theatre, built in the nineteenth century, and destroyed at the end of the Civil War, Salvador Dalí decided to create his very impressive museum, which contains the broadest range of works that illustrate his care). Note the Mae West Room, the Wind Palace Room, which was designed expressly for the Theatre-Museum. The Dali Museum is a must see as a whole, and everything in it was designed by the artist in order to give visitors a real experience of getting inside his captivating and unique world. The Museum is located in the town of Figueres, about 1 hour from Barcelona. The train leaves Sants Station (walking distance) (take Barcelona-Portbou RENFE line, to Figueres station). Plaça Gala-Salvador Dalí 5 – Figueres RENFE: línea Barcelona-Portbou, (estación: Figueres) Less known places: •Muntanya Montserrat: The great natural beauty of the mountains of Montserrat, already make your visit worthwhile. The town is located taking Ferrocarriles de la Generalitat from Plaza España station. •The train will leave you at the base of the mountain, and from there, choose if you want to take the cable car or funicular zipper. At the top of the mountain, along with the breathtaking views, you'll find the charming and historical monastery. Feel free to spend the day. •At Plaça Espanya station, you must take the Línea R5 of Ferrocarriles. We recommend you buy the full round trip and the entrance tickets at this moment. Montserrat Visita FGC - Plaça Espanya: línea R5 – dirección: Manresa, (Estación: Montserrat-Aeri o Montserrat) •Sitges: If you fancy a day at the beach, outside Barcelona, or even go for a walk, you can catch the train in Sants station, and in half an hour you will find in this city so nice and beautiful and full of pleasant surprises to be discovered. It used to be called the Saint Tropez of Barcelona. There you'll find the beach, the promenade, fine dining, shopping, party and so on. Sitges Cercanías RENFE (Rodalíes) – Sants Estació: línea R2 – - salen trenes a todos los minutos: ) (Estación: Sitges) EATING: Our recommendations are generally of restaurants serving seafood, which are the most traditional and appreciated meals in Spain. The jamón is also another "flagship food" of the country, and you can ask as a tapa, in most bars and restaurants. The "tapas", which are little portions, are also very traditional. Some suggestions are: jamón serrano, manchego cheese, queso manchego, queso curado, croquetas, tortilla, and the very famous pan con tomate (typical of Catalunya, but you can already find in other parts of Spain). Possibly, the best known typical Spain dish is the Paella, and we'll give you some good options. Spanish cuisine is very diverse, and in Barcelona you will find dishes from all parts of the country, specially the Mediterranean style. In many restaurants a good option is to ask for grilled seafood, or Cod. Cod with tomato is very good, and the llauna Cod is the most typical of Barcelona. Enjoy! Restaurants: Good Paellas and Seafood: ENVALIRA: It is a small restaurant in the neighborhood of Gràcia, where you'll find a good paella, at a great price. Another option is the black rice dish. Plaça del Sol, 13 Tel: + Metro: Fontana – L3 BOTAFUMEIRO: Also in Gràcia, but differently from the first, is one of the most well known fish and seafood restaurants in Barcelona. The price follows its popularity, but the quality of the food is fantastic. The portions are quite large, thereby better take a friend and make sure you're hungry! To get an idea, the average price per person is about 60 €. Carrer Gran de Gràcia, 81  Tel: + Metro: Fontana – L3 CAL PINXO On a sunny day, nothing better than sitting on the terrace to enjoy good food in front of the Mediterranean Sea. In Barceloneta Beach, the Cal Pinxo Restaurant, serves a lovely paella and several other dishes, such as steamed mussels that are delicious! Carrer Baluart,124  Tel: + Metro: Barceloneta– L4 LA PARADETA MARISQUERÍA: Forget the decor, comfort, waiter service, and so on, because it's a very simple place. However, you'll never eat seafood so fresh, good and cheap as here! It is really very special. Do not hesitate to try it. tips: - do not be late, because there's often a queue - no credit cards accepted. Payment is only in cash. (average price per person, €30 with drinks included). - the green house wine is very good and cheap - careful when ordering. You always get too much! - closed on Mondays Sants: (closest to the flat) C/ Riego, 27  Tel: + Metro: Plaça de Sants – L1 Born: C/ Comercial, 7  Tel: + Metro: Arc de Triomf – L1 Barceloneta – L4 Sagrada Familia: Passatge Simó, 18 Tel: + Metro: Sagrada Familia – L2 /L5 Other nice places: •Downtown: 4 CATS: Famous for its popularity among celebrities like Gaudi and Picasso especially. He was a frequent customer, leaving his marks drawings napkins, that now hang on the walls. There's varied and very good food. Carrer Montsió, 3 Tel: + Metro: Pl Catalunya– L1/L3 Urquinaona – L1/L4 CASA ALFONSO: In Barcelona, you will find many tapas restaurants, because it's really very typical of Spain, but only a handful have the quality and richness of the traditional Casa Alfonso. Be sure to ask the pan con tomate, the delicious tapas and the excellent jamón and sausages. Carrer Roger de Lluria, 6  Tel: + Reservas: Metro: Pl Urquinaona – L1/L4 •Close by: CINCO JOTAS: In the last floor of Centro Comercial Las Arenas in Plaça Espanya, you can enjoy beautiful views and the sunset behind the Tibidabo. If you want to take advantage of views, good food, or a quality jamón tapas and a glass of wine, this bar/restaurant is very nice, modern and offers good service. Up there you'll find other dining options, but this is the one we like and recommend. Centro Comercial Las Arenas – local R5 Avda. Gran Via de Las Corts Catalanes, 373-375 Tel: + PORTONOVO SILVESTRE This typical Spanish/Galician restaurant is very close, has good prices and cheerful atmosphere. The portions are generous, and the food is tasty and well made. You'll feel at Grandma's house! They serve tapas, steaks, and seafood. C/ Creu Coberta, 37  Tel: + de 5 's: 41 EXPERIENCE y TICKETS If you are a lover of fine dining, you can try your luck in trying to make reservation for the 41°Experience (they only serve 16 people per night), and/or for Tickets, which is more casual (at midnight the doors are open and they serve up to 80 people without reservation). These places provide an amazing experience of aromas and flavors, Ferrán Adriá style. In a few lines, it is difficult to explain, but you can understand it well visiting the websites: Avenida Paral.lel, 164  Reserva para 41Experience: en el sitio web Reserva para Tickets: (entre Pl Espanya y Poble Sec: a distancia caminando) ESPAI KRU by RÍAS DE GALÍCIA Also like the ones above, Espai KRU, in the same Rías de Galicia, provides a memorable and creative experience, ranging from the crude to the sweet, all prepared in front of you, and with reasonable prices. Carrer Lleida, 7  Tel: + Reservas:
Taxi stop is next to the apartment
Other wise a Metro Plaza España will take you every where you need
STill we are in center of the city moving to the main touristic place will take from 2 minutes to max 10 minutes walk
we have a parking place for 2 car
*will have to pay only 10 euros a day (only 10)
Everything I do, I do with love and respect
My guests care much as I love that people feel good ...
Anything you need to stay in my country will be glad to help …
for check in from 21: 00h we have to charge an extra 20 euros
for arrivals after 23: 00h we have to charge 30 euros extra
If you need parking will be happy to be able to offer charging an expense (15 € / day for 2 cars) will provide an additional key.
p3.description.license
HUTB-006955
p3.description.license_link_text
---
Vietato organizzare feste/eventi
Ora del check-in: 12:00 - 21:00.
Smoke is ok at the apartment BUT ONLY OUTSIDE THE BALCONY
i make all very easy ,
i just ask please respect
*life is good
---
---
soggiorno minimo 2 notti.
Dal 01 Giugno 2017 - 31 Agosto 2017 il soggiorno minimo è di 6 notti.
Barcellona, Spagna

·

Membro dal Giugno 2013
Pablo y yo (Jordina) somos un matrimonio con dos hijos preciosos. Yo me encargo de la comunicación con los huéspedes y de cuidar los detalles. Soy una mujer sentimental, cariñosa, profunda y (URL HIDDEN) gusta cuidar de los detalles y de la gente que quiero.

Pablo, mi marido, se encarga de hacer los check-in y check-out.

Ambos nos entregamos plenamente a gestionar nuestro piso, queremos que la gente venga a Barcelona y se sienta como en casa. Siempre nos tendréis a vuestra disposición para cualquier duda o problema.
Necesitamos la vida cosmopolita, pero al mismo tiempo nos encanta disfrutar de la tranquilidad, y siempre cerca del mar, de su profundidad azul y su aroma salino.

La literatura, el silencio, la música, pasear, soñar, el arte... son algunos de nuestros gustos y aficiones.

Yo siempre he soñado con tener un pequeño hotel, algún espacio donde plasmar mi gusto por los pequeños detalles, y cuidar de la gente y sus necesidades. Cuando viajo me gusta recibir eso de mis anfitriones, y ahora sueño con ser yo la anfitriona.

Bienvenidos a nuestra/vuestra casa...



Paul and me (Jordina) are a married couple with two beautiful children.

I'll communication with guests and attention to detail. I am a sentimental woman, loving and deep woman. I love taking care of the details and the people that I love.

Paul, my husband, is responsible for making the check-in and check-out.

Both of us are fully delivered to manage our apartment, we like that people in Barcelona feel like at home. We always are disposal for any questions or problems.

We like the cosmopolitan life, but also love to enjoy the sea and its blue depth and salty smell.

Literature, silence, music, walking, dreaming, art ... are some of our tastes and hobbies.

I have always dreamed of having a small hotel, a space where I can capture my attention to small details, and take care for people and their desires. When I travel I like to get that from my hosts, and now I dream of being the hostess.

Welcome to our / your home...

Tasso di risposta:
100%
Tempo di risposta:
entro poche ore
I dati sulla posizione esatta sono forniti dopo la conferma della prenotazione.
Esplora altre opzioni a Barcellona e nei dintorni
Altri alloggi disponibili a Barcellona: