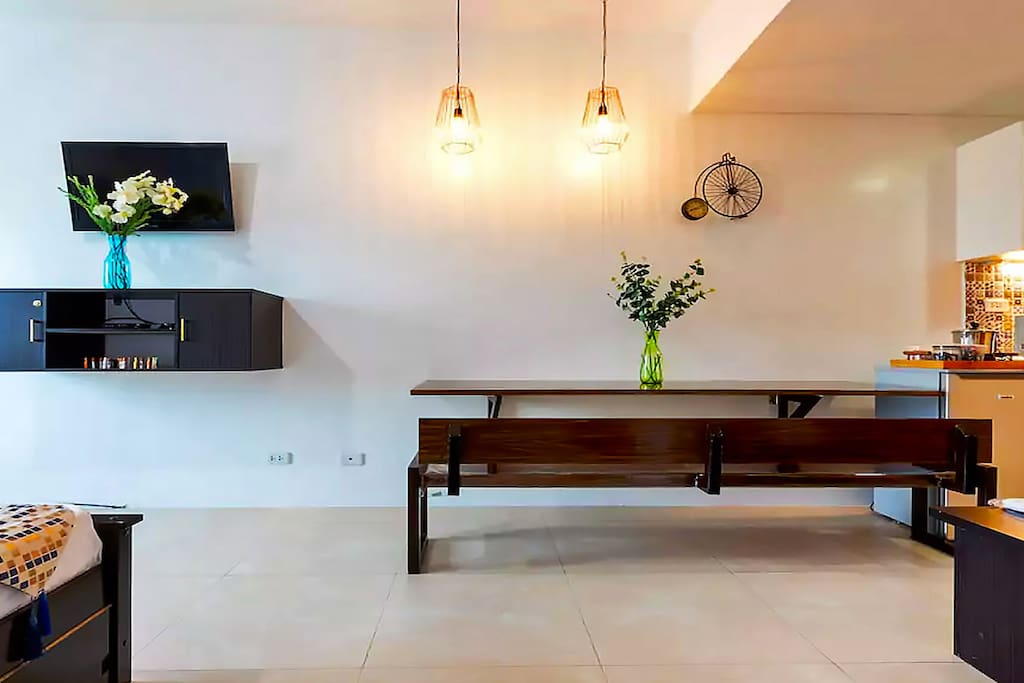 Su questo annuncio
--GET READY FOR OUR SUMMER SALE--
Group yourselves to a Party of 3-6 family, friends, bachelor friends and girl squads.
Min 3 days 2 nights:
- two (2) free parking or (1) GRAB Taxi
- one (1) complimentary welcome food
- kiddie and adult pool use and gym
---
Questo annuncio ha i servizi necessari per i viaggi di lavoro.
---
---
Ospiti extra: 7€ / notte dopo il primo ospite
---
--GET READY FOR OUR SUMMER SALE--
Group yourselves to a Party of 3-6 family, friends, bachelor friends and girl squads.
Min 3 days 2 nights:
- two (2) free parking or (1) GRAB Taxi
- one (1) complimentary welcome food
- kiddie and adult pool use and gym
Welcome to our own Little Version of New York's The Hamptons!
We have eight (8) newly renovated and elegantly beach house inspired condo suites with the best view of Eastwood City. We make sure that it is a staycation that you will fondly remember. We aim to be delightfully worth it at a fraction of a cost of a hotel.
The Furnishings
All of our units are tastefully design to resemble Hotel Business class suites with slight similarities in complimentary offerings. We are proud to make use of 100% Philippine wood like Yakal and Narra for a classy finish and durability. Our furnishings include:
Modern Convenience (Appliances and furniture)
• 1.75 hp Brand New GE A/C
• Brand New! First Class Real Queen Mattress 60 x 75 Main Bed
• Brand New! First Class Real Queen Mattress 60 x 75 Pullout Bed
(Available for 3 Guests and can be availed as Add on)
• Brand New! Sofa Bed with soft upholstery and sets up as a Double Bed
• Brand New! 32-inch LCD TV with cable and premium movie channels
• HDMI READY and easily attachable to your computer.
• Electric Kettle, Coffee, Cream and Sugar set / Milo Chocolate mix available as well.
• Brand New! Fridge with welcome bar snack and drinks on PROMO it is replaced by a Jollibee Family Meal.
• Induction Stove with 3 Induction cookware
• Brand New! Microwave oven
• Power sockets
• New! Hot and Cold Shower-ECB anti electric shot
• Built-in wardrobe
FREQUENTLY ASKED QUESTIONS (FAQ)
1. CHECK IN/CHECK OUT. Host is always present or an equally good representative. We add a personal touch to checking in/checking out where we assist our guests and show them to our fantastic homes with a view. Always with a view :)
** TRANSPARENCY & HONESTY have always been the core of our Home Sharing Business, we love to end in a sweet note with you and for that, we are committed to have a PROPER CHECK IN procedure to test out all appliances and inspect the property for good use before turning it over to your care. We also have a PROPER CHECK OUT where we inspect the property as well as its furnishings and provide you a FULL GATE PASS which clears you from any claims.
2. PAYMENT METHOD. You pay via credit card through this website's payment system. We accept other payment methods preferably reservation fee shall be here at Airbnb.
3. ACCOMMODATES 6 PEOPLE: Our 37 sqm or 407 square foot open space walk-in is designed to accommodate 6 PEOPLE (our minimum is 1). Should the number of guest exceed the number of guest specified at the time of booking, extra persons after 2 GUESTS shall pay the current Airbnb extra person fee.
**Children starting at age five are full paying guests**.
4. MINIMUM NUMBER OF STAY: PROMO TIME: 1 nights NON PROMO: 5 days
1 Night is equal to Nightly Rate + Extra Person charge after 2 persons and Cleaning Fee. We recommend the current Php 8,888 3 Days 2 Nights Promo.
5. COMMUNICATION: This website will provide you our email and contact numbers once you have booked and paid the unit online.
We also respond to your messages in not less than 8 HOURS AFTER. Should it be an EMERGENCY, our FRIENDLY LOBBY SECURITY AND RECEPTIONIST can provide the basic inquiries and basic maintenance service (except repair to badly damage appliances- they can shut down the electricity for this to prevent fire accidents). For emergencies, we have a registered electrician and handyman visit the place immediately the next day.
6. EASTWOOD EASY TRANSPORTATION. Eastwood is accessible by foot at 5 minutes away from Aspire Towers Nuvoland Eastwood with direct entrance to Eastwood City's Citywalk Malls.
Should the guest prefer a mode of transportation, a TRICYCLE TERMINAL going to EASTWOOD is readily available in front of ASPIRE TOWERS. Please kindly ask the assistance of the Building security or Doorman present.
7. POLICY. You BREAK IT, LOSS IT, You REPLACE IT. There is a price equivalent for anything broken or missing. By booking our units, it means you are liable to all of the furnishings and appliances provided to you. We make sure there is a thorough check in by inspecting and testing out the appliances and providing you a list of the linens, rugs, rags, curtains, towels and other vacation home essential. NO SETTLEMENT NO CHECKOUT.
8. INTERNET ACCESS: 24/7 access to Internet in all condominium room. 6am to 8pm Internet access in Ground floor lobby as well. INTERNET is INCLUSIVE, COMPLIMENTARY, FREE
9. SECURITY: A full 24/7 security team at Aspire Towers Nuvoland is provided in our SOHO Elite Condo building which includes our parking space, common areas and ground floor. We have 2 doormen/security in front of our residences. There are CCTV cameras in all of our floors.
10. PARKING. We have 24/7 PAID Parking found at the basement at a minimum of Php 30 per 4 hours or Php 300 per day. Parking is independent from our packaged fees and shall be paid separately to ASPIRE TOWERS NUVOLAND EASTWOOD FRONT DESK.
11. PACKAGED ELECTRICITY AND WATER CHARGES. We are a budget accommodations albeit Suite upgraded, we can only include so much and have decided to make nightly rates competitive by decreasing charges. Electricity and Water Charges are purely based on Guest's consumption. Our set budget is 10 US Dollars for 2-20 days; and 15 US Dollars for 21 Days Stay and Above. Beyond the set budget shall be for the account of the Guest.
COMPLIMENTARY SERVICES
1. COMPLIMENTARY Airport Transfer: Free GRAB TAXI transportation covers up to 3 US DOLLARS. PHP 8,888 allows for One (1) complimentary Grab Taxi (March 18 to June 7 2017 only)
2. COMPLIMENTARY WATER & ELECTRICITY: Proportioned set budget for
* 2 Nights- 20 Nights at USD 10 and * 21 Nights & above at USD 15.
Beyond the prescribed proportioned budget shall be for the account of the Guests based on Eastwood City SOHO (Residential/commercial set up) computations per kph or cum. This is due and demandable upon checkout- cash payment.
3. COMPLIMENTARY COFFEE. We have a day, a week or a month's worth of startup coffee package to start up your morning. You may request for Instant Coffee or one with Coffee Press and Brewed Coffee Startup Package.
4. COMPLIMENTARY TOILETRIES. Depending on the group, we have a pre-package toiletries set (Liquid soap, shampoo, and toilet paper)
5. COMPLIMENTARY IRON & IRON TABLE. This is usually an add-on charge for normal non business ready homes. We offer this for FREE.
6. FULL BAR REFRIGERATOR. We provide FREE Water and Snack as well as priced basic goodies for your benefit and enjoyment and less than the hotel rates for snacks, food and goods. For our PHP 8,888 promo, we give a Jollibee or Chowking Family Meal.
7. BABY CRIB AT YOUR DISPOSAL AS CHARGED ADD ONS. We know that families travel together and we want you to know that we have 20 Baby Cribs for your use if ever you'll be needing one part of our ADD ONS. Just inquire and reserve.
AMMENITIES
1. Our lapping and kiddie pool is free for the registered guests enjoyment. This is located at the 5th floor along with our GYM, Yoga Studio, Jacuzzi and Basketball court.
2. Owners, their Hosts and Cohosts, are not responsible for any accidents, injuries or illnesses that occur while on the premises or its facilities. The Homeowners are not responsible for the loss of personal belongings or valuables of the guest. We strongly advice not to leave children behind while in the pool or in the playground facilities.
We are keen to help you whenever you need assistance at anytime. You can readily reach us through the numbers provided by Airbnb. We respond within the day or less than 8 hours. Our friendly lobby concierge can also assist you maintenance and neighbourhood directory concerns.
You cannot ask for a better location than where we are now! Our neighborhood is a great spot for vacation and business trips.
BUILDING
- SUDS LAUNDROMAT
- SPA
-SECURITY BANK
-ASIAN UNITED BANK
5 MINUTES WALK:
-Eastwood City Mall (Citywalk and New Mall)
-Robinson's Supermarket
-Bookstores
-Banks
-Anytime fitness/Fitness First GYMS
-Mercury Drug Stores
-Medical City Central Clinics
-Mcdonald's Jollibee, KFC, Starbucks, Applebee's, IHOP and other new, up and coming restaurants that are practically opening every month and week.
BEST NIGHTLIFE CELEBRATION
At night, we pride ourselves for the best night spot in town complete with Bar, Pub and the best tasting restaurants to enjoy with your friends and family.
CHURCHES
For churches, we have Padre Pio, known for its miraculous qualities in granting prayers of the true and Eastwood's very own St. John Paul II Airconditioned Church.
BEST SECURITY IN ALL OF QUEZON CITY TOWNSHIP.
Our neighborhood is the safest with friendly security and police officers patrolling the Eastwood and Bagumbayan streets 24/7.
ACCESSIBILITY
All other places to see and be are easily reached by cab, which can be hailed in front of the building anytime!
We are a major Taxi, Uber and Grab transportation hub and center. With just a flick of the hand, you can hail any taxi that can take you to all major destinations in the city and beyond.
Driving distance, traffic-dependent:
-Airport terminals - 1 Hour & 30 mins away, passing the Skyway 1 Hour away
-Ortigas City (Megamall, Tiendesitas, The Medical City - 20 mins
- Bonifacio Global City- 45 minutes
- Makati City 45 minutes
- There are jeepneys around the area- that is, if you are feeling adventurous and explore how some of the locals wing it :)
- If you feel the need to take the train (MRT-Q.C. to Makati ; LRT Quezon City-Cubao-Legarda Manila), take the local cab or Grab and its a 15-30 (depending on the traffic) minutes ride to that destination.
We have PAID 24/7 basement and open space parking for your convenience. Our condominium community offers daily rates and monthly discounted package rates. Please feel free to ask the Lobby reception desk.
1. LOBBY RECEPTIONIST & RESIDENTIAL CONDO SERVICE
- Our Friendly Lobby Receptionist can direct you to where the mall is, provide contact details of our laundry, spa or water station for your use, and contact our in-house handyman, plumber, or electricians for assistance in the residences especially in emergencies. We advice you to call them first for emergencies as they will be notifying me afterwards.
2. DAY GUESTS ARE ALLOWED W/ ENTRANCE. If the guest will invite day guests over, the Home Host must be informed. The first two day guests are free. More than that shall follow an additional day rate of PHP 50.00 for use of amenities. If the day guests should stay overnight, the overnight Airbnb fee shall follow.
3. CHECK IN AND CHECK OUT FOR DAY GUESTS. Day Guests must diligently sign the check in and check out at the ground floor. If the check out should not be signed, it is understood that the day guests have extended their stay and shall be charged on extra guest daily
4. LIMITATIONS IN ALLOWABLE GUESTS.
As we are only a residential condominium, we lack the facilities, personnel or expertise to provide proper medical care and attention to individuals who have:
-68 years old and above
- SEVERE MEDICAL CONDITION
classified as terminally ill patients. We lack the insurance or the facilities if otherwise.
-MENTAL MEDICAL CONDITION
classified as any individuals who are currently in bouts of bipolar disorder episodes, dementia (for older people), schizophrenia and others with emotional swings that can be self destructive or can harm other residents.
* Should GUESTS fail to disclose any of these before booking, Airbnb policy on cancellations will be followed (no return of booking fee on date of check in or 50% refund before check in date).
---
Ora del check-in: 14:00 - 22:00.
Self check-in con doorman entry
--MARCH/APRIL PROMO TERMS AND CONDITIONS-- 3 days; 2 nights
* Minimum of 3 persons Max of 6 persons. Not more Not less.
*Inclusive of one (1) Free Grab Ride or 2 Overnight Parking.
*Inclusive of use of Swimming Pool, kiddie pool/jacuzzi, and gym.
* 1 welcome Family meal
* Complimentary iron and iron table for business suites only.
* 2 Queen size beds, 1 Sofa Queen Bed, changed linens
* Will not include:
- Airbnb Guest Fee. Please understand that we will not have any profit from their service charge from you.
- ALL Laundry will be for the account of the Guest. As in any Home sharing units, Laundry of all used Essentials including curtain, bedsheets, towels, mattress protector, blankets, rugs, rags and mittens shall be for the account of the Guest. You can have it laundered at the Ground Floor Sud's Laundry or your choice of Laundry around the area. Please do this before Checkout or we can do it at checkout and pick these up for you following Sud's Laundry price of 95 pesos per kg.
CLEANING FEE is included in the pricing. We won't make it complicated for you.

--------------------STANDARD TERMS & CONDITION-------------------------------.
.We ACCEPT CREDIT CARD PAYMENTS. This site is our terminal and can accommodate for payment option.
3. WE ACCEPT INSTANT BOOKING even without government identification through this application. However, we STRICTLY require this upon CHECK-IN. The HOST will be sending the GUEST and his group a computerized form to be filled up within 48 hours before checking in. Kindly email or scan Government IDs of all those included in the group.
** STRICTLY NO REGISTRATION. NO ENTRY.**
***Children 3 years old and above are considered full paying guests***
4. DECLARATION OF GOOD FAITH. All of the units are privately owned and are identified as RENTED HOMES and not HOTELS. We may have daily or nightly rates however we adhere to Philippine Rental Control Law recognising a Lessor and Lessee relationship.
The owners and their management are not liable for any injuries or illnesses that may occur while on the premises or its facilities. Neither are they accountable for the loss of any personal belonging or valuables.
5. NO ILLEGAL ACTIVITIES Furthermore, the Homeowners, Hosts and Cohosts, are not condoning any activities concerning prostitution, drug trading and using, smuggling or anything considered illegal by Philippine law and shall not be held in connection with any of these. Should the Guests be, at any time, found participating in any of these activities, the Guest shall be immediately evicted and pay not less than Fifty (PHP 50,000) Thousand Pesos in damages and court representation to be held in Quezon City
5. CHECK-IN. Guests will be provided with: a) Home Guidelines
b) Assistance and quick demo of all appliances c) ,complementaries d) rebate in cash (if any) e) bar snack or fridge with prices f) shown emergency exits and; d) provided Two (2) Keys. Lost key has a replacement cost of 350 Philippine Pesos. By accepting us, it means you abide by all our home rules and guidelines in its entirety.
6. LINENS and LAUNDRY. SHORT TERM RENTALS PH will shoulder a maximum of 1 KG (FREE) worth of laundry (NON PROMO ONLY). Both Host and Guest will follow the standard pricing for linens, sheets and towels by the resident laundromat of the condominium: Suds Laundry which is not more than 95 Philippine Pesos per kg.
7. Cleaning /Turnover Fee. A one-time charge that takes care of staff management, cleanliness and professional turnover every check in and checkout. We follow a packaged rate of USD 67 (SHORT TERM) to a max of USD 168 on long term stay provided that the main nightly rate has been reasonably packaged or received discount in accordance to Airbnb WEEKLY rebate rules.
8. Our nightly rates have packaged budget water and electricity (SOHO mixed residential and commercial charging), use of brand new amenities: swimming pool, basketball court, cardio and weights gym as well as complimentary WIFI (24/7) in our rooms and Lobby area.
10. **Please keep in mind that AirBnB is a community of people opening up their homes to guests. Our home sharing community is designed for people who are FAIRLY INDEPENDENT and those WE CAN COUNT ON to treat our home as their own. We are not a Hotel but we strive to provide the creature comforts that you deserve on a trip to the country or town.
**This is the reason why we are able to OFFER RATES that are SIGNIFICANTLY LOWER than hotels.
OUR LIMITATIONS (PLEASE READ): In line with this, we are informing our prospective guests that we are not accommodating any guests 68 years old and above or those with severe medical conditions (hypertension, heart condition, dementia) and mental medical conditions (bipolar disorder, schizophrenia, depression, mania) as we lack the professional medical personnel or facilities to keep their stay comfortable and safe. Please book with a hotel or hospices with medical care at the ready.
11. DAY GUESTS ARE ALLOWED W/ ENTRANCE. If the guest will invite day guests over, the Home Host must be informed. More than 1 GUEST shall follow an additional day rate of PHP 50.00 for use of amenities. If the day guests should stay overnight, the overnight Airbnb fee shall follow. If Guests avail of the PROMO weekend rates, next 3 GUESTS are FREE.
6. CHECK IN AND CHECK OUT. Day Guests must diligently sign the check in and check out at the ground floor.
IMPORTANT: If the check out should not be signed, it is understood that the day guests have extended their stay and shall be charged on extra guest daily
7. ADDITIONAL GUESTS. For additional guests after Instant booking, Airbnb rules on additional guest charges (considering the allowable number) follow unless GUEST purchased the PROMO.-- We accommodate cash payments and give another 5% off from your total booking rates. Ask us how via private message. You can easily find us at Maxine Arce Aspire Towers Nuvoland Eastwood. FOR BUSINESS CLASS UNITS ONLY
8. ANYTHING BROKEN OR LOSS IS CONSIDERED BOUGHT BY GUESTS.
Price equivalents are found in the Guidebook loaned to you by the Host. We get no SECURITY DEPOSIT only that bear in mind we've accepted you with our full hearts and trust.
9. ADD ON CHARGES. For extra mattresses, extra pillows, pillow cases, we have those available in case you need them and with rental charges. We are allowing you to bring your own apart from that offered for 1 pax to 6 pax group.
OTHER THINGS TO NOTE:
**All bedsheets, linens, blankets and towels are provided with plus one extra.
You are allowed to laundry these basics at your expense but during checkout, these must be present for the inventory check to avoid charges for lost furnishings. Should you be requiring more linens or add on appliances/furnishing (BABY CRIBS,EXTRA MATTRESS, EXTRA LINENS, TOWELS, BLANKETS- NOT PROVIDED IN THE PACKAGE ), we can provide for our guests with minimal add-on fees.
---
Rigidi
Cancella fino a 7 giorni prima del viaggio e ricevi un rimborso del 50%, più i costi del servizio.
---
Rilevatore di monossido di carbonio
---
I can't tell you enough how happy we were the last time I stayed in one of her properties. She is one super host to look for! She is most organized, she fits her properties with travel esentials, she has notes and up to date check in and check out process. Her beautiful Hotel inspired suite in Aspire towers is next door to Eastwood- I love the decors becs it truly reminded me of homes near yachts. Her place was booked for a month last year and its no wonder why. Maxine is Airbnb's best kept secret but not for long. Thank you, Maxine
---
The place is just 5 mins walk to Eastwood City Malls where you can have many choices of restaurants, coffee shops, groceries, pharmacies/Chemists. "Dampa" is about 10mins walk, it is a fish market where you can buy fresh seafoods and with paid kitchens available where you can have your bought seafoods freshly cooked.
---
Maxine's pad is one of the ideal places for transient business trips. It has got the basic amenities and then some. Wifi connection is reliable. A lot of places in Airbnb are similar in more ways than one, but what sets one apart is how responsive and communicative the host is. And Maxine is one of them. She also actively sought my feedback, and that is something invaluable. More power!
---
Maxine was an excellent host. She responded to all my pre-check in questions right away. She personally came to meet us and had everything detailed for us in black and white. She provided us with numbers we would need during our stay. The listing was as advertised; no surprises. The place was clean and in exceptional condition. The location was as described, a few blocks from Eastwood. I would highly recommend her unit and would gladly stay there again.
---
The host is approachable And considerate in terms OF our needs.the place is organized And clean.i like the security And friendly staff in the is a very convienent place for US because it is close to the mall,church And grocery store.this place is highly recommended
---
Quezon, Filippine

·

Membro dal Dicembre 2015
We are a small mom and pop home sharing owners who have been in the home sharing business for the past 7 years. Took a break last 4 years after selling the last of our 20 units while focusing on other endeavours. Just got back last year and saw what we have missed.

We are aiming to be the #Superhost that you deserve to have and provide you a clean, comfortable and safe home in the metro. We love to have you around and help you get settled in.
Tasso di risposta:
80%
Tempo di risposta:
entro poche ore
I dati sulla posizione esatta sono forniti dopo la conferma della prenotazione.
Esplora altre opzioni a Quezon e nei dintorni
Altri alloggi disponibili a Quezon: