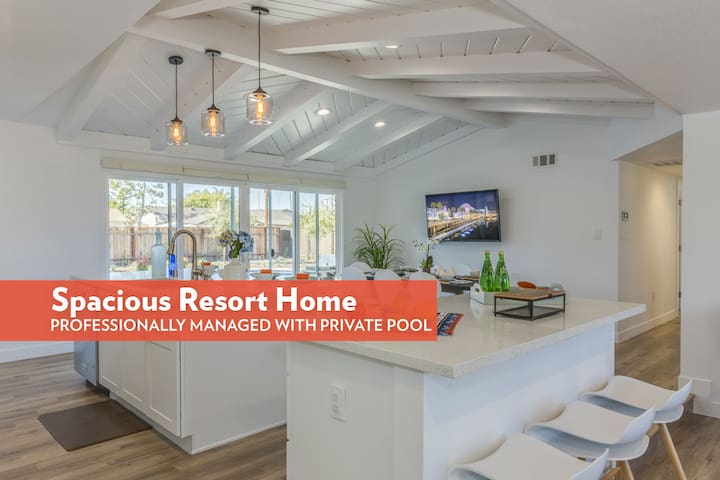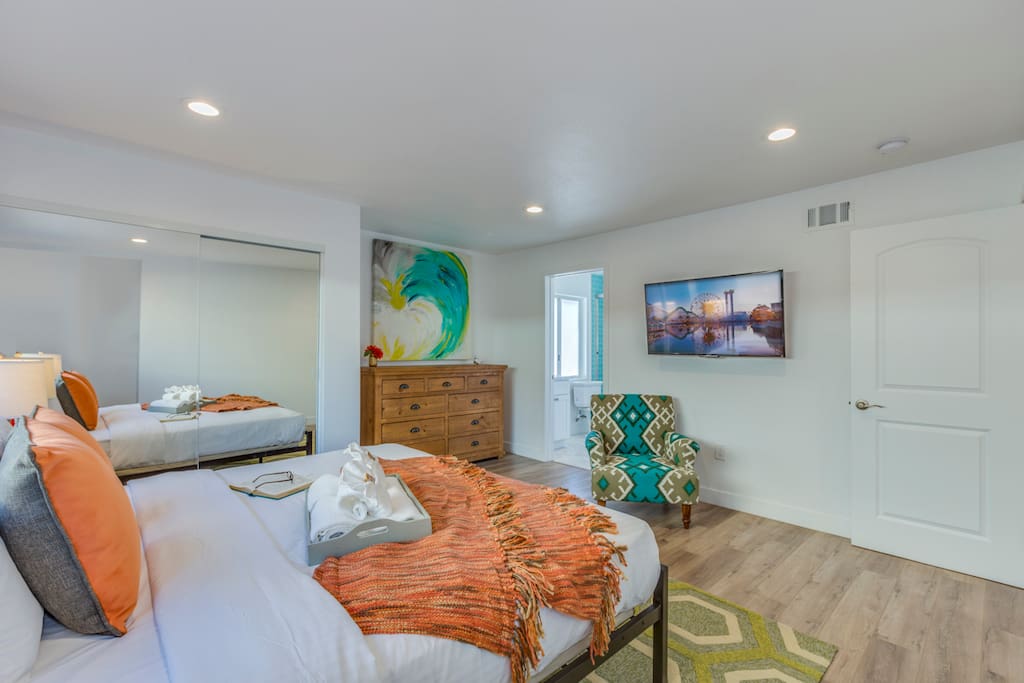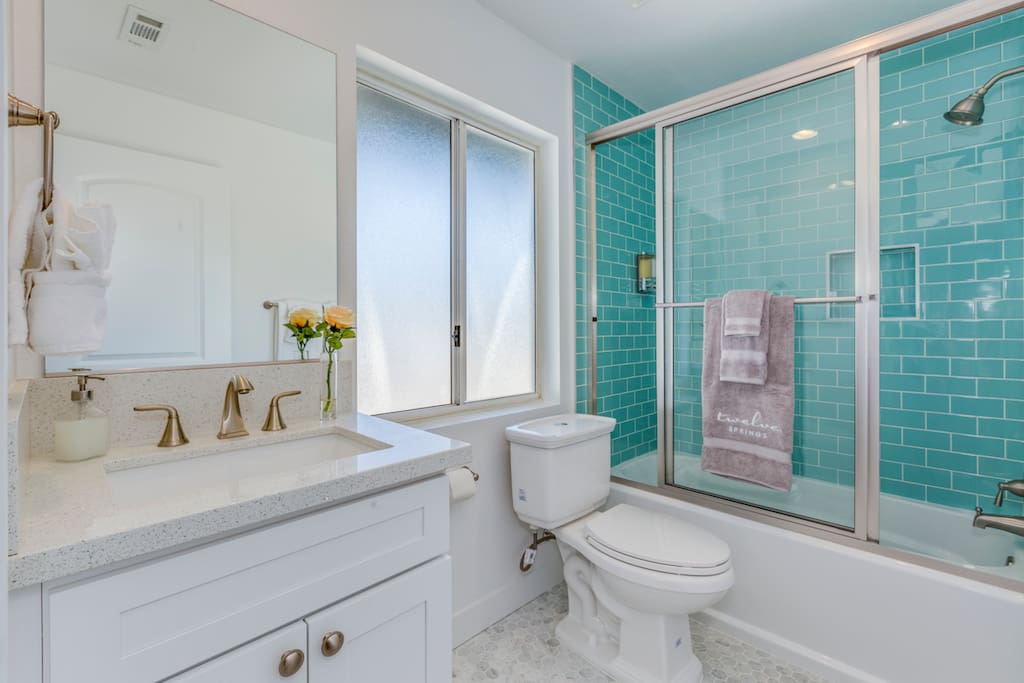 Su questo annuncio
Must be 21 or older to reserve.
6 Bedroom/4 Bathroom, Minutes to Disney, Heated Pool!
---
Check-In: In qualsiasi momento dopo le ore 16:00
Tipologia alloggio: Intera casa/apt
---
---
Ospiti extra: nessun costo aggiuntivo
---
Must be 21 or older to reserve.
6 Bedroom/4 Bathroom, Minutes to Disney, Heated Pool!
Our Eileen home is our newest and biggest home. This spacious six bedroom home sits on a 10,019 sq ft lot and features a sparkling fresh water pool, outdoor BBQ, and loungers. Perfect for family reunions and large groups!
The Eileen Home by Twelve Springs is our largest and grandest home yet, complete with 6 bedrooms and 4 bathrooms. This sprawling property is the perfect setting for family reunions, and convention groups alike. This home has a fully stocked kitchen to cook in, 2 sets of 3 bedrooms on either side of the house as well as a large backyard with loungers, a barbecue, and a sparkling heated pool.
This rental will include everything you need to feel "at home". Luxurious linens, towels, and supplies for laundry are provided. There will be space for 4 cars to park in the driveway. The bedroom and bathroom configuration breakdown is as follows:
On the right side of the home--
Bedroom1: Master with king-sized bed and connecting tub/shower combo bathroom
Bedroom 2: Queen bed
Bedroom 3: Queen bed
1 hall bathroom shower/tub combo
On the left side of the home--
Bedroom 4: Two bunk beds, one of which is trundle; total of 5 twin mattresses
Bedroom 5: Queen bed
Bedroom 6: Master with king bed and connecting bath with standing shower
1 hall bathroom shower/tub combo
The Eileen home is ideally located in a nice, quiet neighborhood. Disneyland and the Anaheim Convention Center are just a 10 minute drive away. There are also plenty of nearby restaurants and other attractions.
Undoubtedly, the best part about renting a Twelve Springs home is the dedicated 24/7 staff. Our team will ensure that you have the best vacation experience possible. If you have any requests during your time with us, we are always just a phone call away!
Vacation Rental ID (required by the city of Anaheim): Reg
---
Vietato organizzare feste/eventi
Check-in a qualsiasi ora dopo le 16:00
*You will be sent this rental agreement in a separate document for e-signing*
Twelve Springs, LLC. Vacation Rental Agreement
(Intended for occupancy of 30 days or less)
(C.A.R. Form VRA, Revised 1/06)
1. OCCUPANT: ("Occupant") agrees as follows:
2. PROPERTY: Occupant rents, for accommodation purposes only, the furnished real property and improvements described as: 2045 S Eileen Dr, Anaheim, CA 92802 ("Premises").The Premises has 6 bedrooms and 4 bathrooms.
3. ARRIVAL AND DEPARTURE: Check-in time on your day of arrival is 4 PM. Check-out time on your day of departure is 11 AM. Late check-outs and early check-ins may be requested 24 hours in advance and will be accommodated upon availability. See section 9 for unauthorized late departure charges.
4. AUTHORIZED USE AND GUESTS: The Premises are for the sole use as a personal short-term accommodation residence by not more than 15 adults and children. Visitors in excess of the maximum occupancy are not permitted.
5. PAYMENTS: Occupant agrees to pay the total cost of the reservation if booking within 30 days of check-in or if booking is made through Airbnb. If booking is made more than 30 days prior to check-in, the deposit and 50% of the total is due to reserve the home, and the remaining 50% is due 30 days prior to check-in.
6. BALANCE DUE: If any amount due is not received by the applicable Payment Due Date, Owner may, at Owner's
or the Owner's Representative's sole discretion, terminate this Agreement.
7. SECURITY DEPOSIT:
A. The security deposit will be held by Twelve Springs, LLC.
B. All or any portion of the security deposit, upon termination of occupancy, may be used as reasonably necessary to: (i) cure Occupant's default in payment of rent, non-sufficient funds ("NSF") fees or other sums due; (ii) repair damage, excluding ordinary wear and tear, caused by Occupant or Occupant's guests or licensees; (iii) clean the Premises (beyond normal cleaning covered by cleaning fee); and (iv) replace or return personal property or appurtenances. Within three weeks after Occupant vacates the Premises, Owner shall: (1) furnish Occupant an itemized statement indicating the amount of any security deposit (i) received, (ii) withheld and the basis for its disposition, and (2) return any remaining portion of the security deposit to Occupant.
C. No interest will be paid on the security deposit unless required by local ordinance.
D. If the security deposit is held by Owner, Occupant agrees not to hold Owner's Representative responsible for its return.
8. CANCELLATION; REFUND: If Occupant cancels or otherwise terminates this Agreement (i) 30 days prior to check-in, all payments except external reservation fees will be refunded to Occupant, (ii) if Occupant cancels or otherwise terminates this
Agreement after the 30th day prior to check-in, Occupant shall be responsible for all charges. For reservations 30 days or longer in length: (i) all payments will be refunded if Occupant cancels prior to 60 days or more prior to check-in, (ii) if Occupant cancels between 30 and 60 days prior to check-in, a 50% refund of all payments will be issued, (iii) if Occupant cancels within 30 days prior to check-in, no refunds will be issued.
9. LATE DEPARTURE CHARGES: Occupant agrees there shall be no holding over or late departure without prior approval. Any unauthorized holding over or late departures by Occupant shall be subject to a charge of 1 and 1/2 times the daily prorated rent (or 
 if checked) ("Holdover Rate"), plus any additional damages incurred including, but not limited to, the cost of alternative housing for guests displaced by Occupant's holding over. Charges will be made to the Occupant's credit card on file.
10. CLEANING: Premises will be delivered to Occupant in a professionally cleaned condition. Upon termination of occupancy,
the Premises will be inspected. The credit card on file may be charged if excessive cleaning is required.
11. NO PETS: Pets are not allowed. If an unauthorized pet is on the Premises, (i) Occupant is responsible for all damage caused by
the pet, (ii) Occupant, Authorized Guests, pet(s) and all others may be required to immediately leave the Premises, or be removed
from it, (iii) Occupant is in breach of this Agreement, and (iv) Occupant will be charged a mandatory $250 additional cleaning fee.
12. NO SMOKING: No smoking is allowed on the Premises. If smoking does occur on the Premises, (i) Occupant is responsible for all damage caused by the smoking including, but not limited to, stains, burns, odors and removal of debris; (ii) Occupant, Authorized Guests, and all others may be required to immediately leave the Premises, or be removed from the Premises; (iii) Occupant is in breach of this Agreement; and (iv) Occupant will be charged a mandatory fee of $500.
13. CONDITION OF PREMISES: Occupant has not viewed the Premises prior to entering into this Agreement. Occupant
shall, on arrival, examine the Premises, all furniture, furnishings, appliances, fixtures and landscaping, if any, and shall immediately
report, in writing, if any are not in operating condition or are in disrepair. Reporting repairs does not give Occupant the right to
cancel this Agreement or receive a refund of any payments made.
14. UTILITIES: Owner is to pay for all utilities.
15. RULES; REGULATIONS; NO COMMERCIAL USE: Occupant agrees to comply with any and all rules and regulations that are at any time posted on the Premises or delivered to Occupant. Occupant shall not, and shall ensure that guests and licensees of Occupant shall not: (i) disturb, annoy, endanger, or interfere with other occupants of the building in which Premises is located or its neighbors; (ii) use the Premises for any commercial or unlawful purpose including, but not limited to, using, manufacturing, selling, storing, or transporting illicit drugs or other contraband; (iii) violate any law or ordinance; or (iv) commit waste or nuisance on or about the Premises. See section 28 A for additional rules and regulations.
16. MAINTENANCE: Occupant shall properly use, operate and safeguard the Premises including, if applicable, any landscaping, furniture, furnishings, appliances and all mechanical, electrical, gas and plumbing fixtures, and keep them clean and sanitary. Occupant shall immediately notify Owner or Owner's Representative of any problem, malfunction or damage. Occupant shall pay for all repairs or replacements caused by Occupant, guests and licensees of Occupant, excluding ordinary wear and tear. Occupant shall pay for all damage to the Premises as a result of failure to report a problem, malfunction or damage in a timely manner. Occupant shall pay for repair of drain blockages or stoppages, unless caused by defective plumbing parts or tree roots invading sewer lines.
17. ALTERATIONS: Occupant shall not make any alterations in or about the Premises including, but not limited to, moving furniture, painting, wallpapering, adding or changing locks, installing antenna or satellite dishes, placing signs, displays or exhibits, or using screws, fastening devices, large nails or adhesive materials.
18. ENTRY: Owner and Owner's representatives and agents have the right to enter the Premises, at any time, (i) for the purpose of making necessary or agreed repairs, decorations, alterations, improvements, for maintenance or to supply necessary or agreed
Services, (ii) to verify that Occupant has complied with the terms of this Agreement; or (iii) in case of emergency.
19. NO ASSIGNMENT OR SUBLETTING: Occupant shall not assign any interest in this Agreement or sublet any part of the Premises. If this Agreement is assigned or the Premises or any part thereof is sublet, (i) Occupant, Authorized Guests, assignee(s),
sub lessee(s) and all others may be required to immediately leave the Premises, or be removed from it; (ii) Occupant is in breach of this Agreement; and (iii) Occupant forfeits its right to return of any security deposit.
20. UNAVAILABILITY: If for any reason beyond the control of Owner or Owner's Representative, the Premises is unavailable, Owner or Owner's Representative may substitute a comparable unit or cancel this Agreement and refund in full to Occupant all payments made.
21. OCCUPANT'S OBLIGATIONS UPON TERMINATION OF OCCUPANCY: Upon termination of occupancy, Occupant shall: (i) give Owner all copies of all keys or opening devices to the Premises, including any common areas; (ii) vacate the Premises and surrender it to Owner empty of all persons; (iii) vacate any/all parking and/or storage space; and (iv) deliver the Premises to Owner in the same condition less ordinary wear and tear as received upon arrival.
22. PERSONAL PROPERTY AND INJURY:
A. Owner Insurance: Occupant's or guests' personal property, including vehicles, are not insured by Owner or, if applicable, HOA, against loss or damage due to fire, theft, vandalism, rain, water, criminal or negligent acts of others, or any other cause. Owner does not insure against personal injury to Occupant, guests or licensees due to any reason other than the condition of the Premises.
B. Occupant Insurance: Owner recommends that Occupant carry or obtain insurance to protect Occupant, guests, and licensees and their personal property from any loss or damage.
C. Indemnity and Hold Harmless: Occupant agrees to indemnify, defend and hold harmless Owner and Owner's Representative from all claims, disputes, litigation, judgments, costs and attorney fees resulting from loss, damage or injury to Occupant, Occupant's guests or licensees or their personal property.
Occupant acknowledges receipt of a copy of this page.
23. MEDIATION: Occupant agrees to mediate any dispute or claim arising out of this Agreement, or any resulting transaction, before resorting to arbitration or court action. Mediation fees, if any, shall be divided equally among the parties involved.
24. MEGAN'S LAW DATABASE DISCLOSURE: Notice: Pursuant to Section 290.46 of the Penal Code, information about specified registered sex offenders is made available to the public via an Internet Web site maintained by the Department of Justice at Depending on an offender's criminal history, this information will include either the address at which the offender resides or the community of residence and ZIP Code in which he or she resides. (Neither Owner nor Brokers, if any, are required to check this website. If Occupant wants further information, Occupant should obtain information directly from this website.)
25. JOINT AND INDIVIDUAL OBLIGATIONS: If there is more than one Occupant, each one shall be individually and completely responsible for the performance of all obligations under this Agreement, jointly and individually with every other Occupant.
26. TRANSIENT OCCUPANCY: Occupant is renting the Premises as a transient lodger for the number of days specified from Owner who retains full legal, possessory and access rights.
27. KEYS; LOCKS: Prior to arrival, occupant will receive an electronic key code for accessing the home. This key code is unique to the reservation and will only work for the duration of the reservation.
28. OTHER TERMS AND CONDITIONS, including ATTACHED SUPPLEMENTS:
A. Anaheim Municipal Code A.M.C code must be followed, please review this chapter here for any changes:

a. The maximum number of occupants permitted for this home is 15. Failure to conform to the maximum occupancy is a violation of this chapter and will result in eviction without refund.
b. Street parking is not permitted. There are 3 off-street parking spaces available in the driveway.
c. The trash pick-up day for this home is Tuesday. Our gardeners will take care of taking the bins out and retrieving them. Please do not leave or store trash on the exterior of the property.
d. Occupant may be cited or fined by the city and/or immediately evicted by the owner for violating any and all applicable laws, in addition to any other remedies available at law, for creating a disturbance or for violating other provisions of this chapter.
e. The owner of this home is Home Partners, LLC. This home is managed by Twelve Springs, LLC.
i. You may reach the property manager at any time by dia.
ii. If you have an emergency, please dial 9-1-1.
iii. The local police phone number is
iv. The local fire department number is
f. Occupants must comply with the city's Loud and Unreasonable Noise Ordinance (Chapter 6.73 of the code) which restricts excessive noise between the hours of 10 p.m. and 9a.m. During this time, the pool and back yard are closed.
g. The use of a short-term rental unit shall not violate an applicable conditions, covenants or other restrictions on the short-term rental property upon which a short-term rental unit is maintained.
h. The owner shall ensure that the occupants and guests of a short-term rental unit do not create unreasonable noise or disturbances, engage in disorderly conduct, or violate provisions of the Anaheim Municipal Code or any State law pertaining to noise, disorderly conduct, overcrowding, the consumption of alcohol, or the use of illegal drugs. Owner are expect to take any measures necessary to abate disturbances, including, but not limited to, directing the occupants and guests of a short-term rental unit to cease the disturbing conduct, calling for law enforcement services or city code enforcement officers, removing the occupant(s) and/or guests, or taking any other action necessary to immediately abate this disturbance.
i. No musical instrument, loudspeaker, amplified or reproduced sound, or any machine or device for the production or reproduction of any sound shall be used outside or be audible from the outside of a short-term rental unit between the hours of 10:00 p.m. and 9:00 a.m.
j. Occupants shall comply with "quiet time," meaning that they may not engage in activities outside of a short-term rental unit between the hours of 10:00 p.m. and 9:00 a.m. that involve the use of swimming pools, hot tubs, spas, tennis and paddleboard courts, play equipment or other similar and related improvements or equipment and other activities that might be expected to cause discomfort or annoyance to any reasonable person of normal sensitivity residing in the area.
k. Any adult occupant of the short-term-rental, must, upon presentation of reasonable identification by an enforcement officer, provide the officer immediate access to the short-term-rental property and dwelling to investigate a complaint or suspected violation of this chapter or of the code or any applicable law, rule, or regulation pertaining to the use or occupancy of a short-term rental property, and that failure to provide such access is a major violation of this chapter.
B. VIDEO SURVEILLANCE NOTIFICATION: For security purposes, this property is under video surveillance. Security cameras are installed on the exterior of the home only and do not videotape the interior of the home. No audio surveillance is recorded at any time.
29. ENTIRE CONTRACT: Time is of the essence. All prior agreements between Owner and Occupant are incorporated in this Agreement, which constitutes the entire contract. It is intended as a final expression of the parties' agreement, and may not be contradicted by evidence of any prior agreement or contemporaneous oral agreement. The parties further intend that this Agreement constitutes the complete and exclusive statement of its terms, and that no extrinsic evidence whatsoever may be introduced in any judicial or other proceeding, if any, involving this Agreement. Any provision of this Agreement that is held to be invalid shall not affect the validity or enforceability of any other provision in this Agreement. The waiver of any breach shall not be construed as a continuing waiver of the same or any subsequent breach. This Agreement shall be governed and construed in accordance with the laws of the State of California. California shall have personal jurisdiction over the parties and the county in which the Premises is located shall be the forum for any legal action brought in relation to this Agreement.

The following to be filled out and e-signed in a separate document:

Occupant Signature: _____________________________________________

Printed Name:

Date:

Telephone:

Home Address:

Driver's License #:
---
Moderati
Cancella fino a 5 giorni prima del viaggio e ottieni un rimborso totale, compresi i costi del servizio.
---
Rilevatore di monossido di carbonio
---
---
I dati sulla posizione esatta sono forniti dopo la conferma della prenotazione.
We had a Disneyland vacations and stayed in this great 6 bedroom home. We were 12 people....9 adults and three kids. The house was on a great location, minutes from the Disneyland parking. The one was clean and looked just like the pictures. The pool temperature was great and we enjoyed our stay. It was a perfect family vacation home. Loved it.
---
Anaheim, California, Stati Uniti

·

Membro dal Aprile 2015
Twelve Springs manages beautiful homes in Anaheim, CA. We are a passionate group of Orange County residents, each experts in our fields ranging from construction, interior design, history, concierge service, technology, and more. We bring our varied expertise together to make one thing: a perfect stay.

Each team member brings a unique perspective to Twelve Springs. We spend our days hand-picking furniture, installing solar panels on our roofs, searching out the local hot spots and fulfilling requests from our guests, all with the goal of making your vacation a memorable one.

Born and raised in Southern California, many of our team members know Orange County like the back of their hand. We'll tell you what to order at the many eateries at the Anaheim Packing House, a local hot spot, and we can tell you where the secret beaches are. We are always exploring, our tastes always being refined, so that we can recommend the best to our guests.
Tasso di risposta:
100%
Tempo di risposta:
entro poche ore