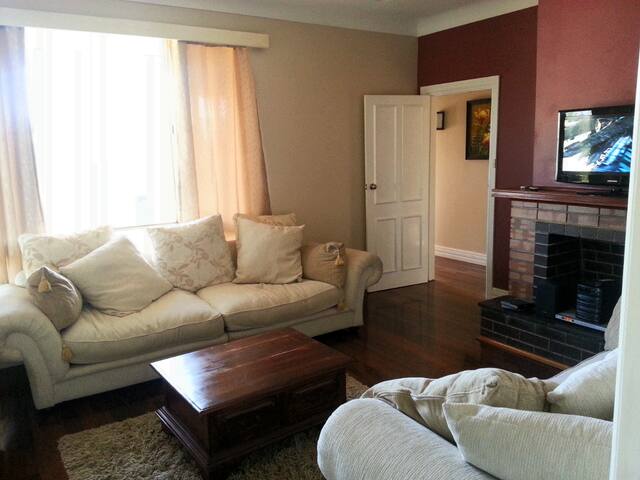 Su questo annuncio
Fully furnished and equipped to accommodate two families of four!
*Walk or quickly drive to the beach, marina, canals, city centre, major & minor shops.
Comes with 3.5m aluminum boat with small outboard plus some fishing and crabbing gear and can carry four passengers (skippers ticket not req'd).
---
Check-In:
In qualsiasi momento dopo le ore 14:00
Tipologia alloggio:
Intera casa/apt
---
---
Ospiti extra:
nessun costo aggiuntivo
Termini di Cancellazione:
Rigidi
---
Fully furnished and equipped to accommodate two families of four!
*Walk or quickly drive to the beach, marina, canals, city centre, major & minor shops.
Comes with 3.5m aluminum boat with small outboard plus some fishing and crabbing gear and can carry four passengers (skippers ticket not req'd).
PLEASE NOTE: As far as we can tell, Airbnb does not provide for us to charge separate high and low season rates so please check our "House Rules" for the "Off Peak" rates which you can access by way of a cash difference rebate to your bank account after departure.
Tastefully renovated character home featuring:
*Main bedroom with queen bed
*Second bedroom with Queen bed
*Third bedroom with 2 x bunk beds
*High ornate ceilings.
*Polished jarrah floor boards.
*Large colonial skirting boards and colonial architraves.
*New doors.
*New curtains.
*New bathroom vanity.
*Dishwasher.
*Washing machine
*Air conditioned
*Ceiling fans to both main bedrooms.
*Pedestal fan to each bunk bed.
*Alfresco Dining
*Fully fenced and secure corner block with 2 x pedestrian gates and 1 x driveway gate.
*Parking for at least four cars.
*Small outdoor dog and or cat permitted.
*Outdoor smoking permitted.
*Child's swing, high chair and box of toys provided.
The boat can carry 4 people and is perfect for putting around the nearby canals and rivers, throwing a line or dropping a couple of crab nets. This equipment along with 2 x child's lifejackets, oars and a trailer are all provided at NO ADDITIONAL COST!
If you don't have a towbar, at only 52 kg's, you can tip it upside down and put it on the roof rack (it's called a "car topper"). Similar craft rent locally from $50 per hour to $320 per day.
Of course, you assume and accept all risk for loss or damage whilst transporting and using the boat!
The entire property is at your disposal.
Our caretaker is just across the road at number 43 Eacott St.
Bus stops both ways less than 50 metres away and the train station is about a 12 minute walk away.
---
1.Identification: You must provide a copy of photo ID i.e. Driver's license or passport to our caretaker.
2.Minimum Booking Tariff: Two (2) nights.
3.Peak Periods: All of January 2016, 18th - 21st March 2016, 24th - 31st March 2016, 15th Decemb(PHONE NUMBER HIDDEN)st January 2017, All school holidays (WA), all public holidays (WA) where not included above.
4.Peak Tariff: $249 per night from Sunday to Thursday inclusive and $399 per night from Friday to Saturday inclusive or $1,839 weekly … Off-Peak Tariff: $179 per night from Sunday to Thursday inclusive and $289 per night from Friday to Saturday inclusive or $1,249 weekly.
5.Security Deposit: $500 unless otherwise agreed in writing.
6.Forfeiture of the Security Deposit: Applies in part or in full in the event that in the reasonable opinion of The Owners, it is necessary to do so to cover the cost of any loss or damage caused by You to either of The Property, its contents and or The Boating and Associated Equipment and or to cover any property, contents or boat insurance excess and should the security deposit be insufficient to cover the Owners' losses, You may be further held liable.
7.Arrival: 2.00 pm on the day of the first night as paid for.
8.Departure: 10.00 am on the day after the last night as paid for.
9. Cancellation Policy: LOW SEASON - Cancellations up to seven (7) days prior to arrival - 50% will be deducted from any monies you have already paid. Within seven (7) days of arrival - 100% cancellation fee will apply and you will be required to pay the full amount of the booking less any amount you have already paid. HIGH SEASON - Same rules apply as for low season however thirty (30) days is substituted for seven (7) days.
10.Parties or school leavers: Not allowed.
11.Non-Inclusions: Food, drinks and towels.
12.Maximum Overnight Occupancy: Eight (8) people.
13.Collateral Documents: Appendices A & B form part of this Agreement.
14.Keys: Will be left for you in the metre box next door at number 42 (that's our caretaker John who you can call on (PHONE NUMBER HIDDEN) for the address and should you have any further queries or requirements). Please also put them back there upon departure.
15.Lights: Main kitchen light is at left of centre on the white tiled backsplash.
16.Bin: Please remove lids from plastic bottles and squash these and other recyclable materials such as cartons before depositing and please PUT OUT on TUESDAY NIGHT to kindly bring back in the morning.
17.BBQ: Please ensure the window next to it doesn't get hot as if so, you should move the BBQ further away and please scrape away excess food scraps and fat with a paper kitchen towel.
18.Main Driveway Gate: Move both gates towards the centre position until they touch then with your left hand, raise the left hand side up so you slide the bolt across to latch them together. Next, move both gates to align the vertical bolts to the holes in the driveway.
19.Main Bedroom Roller Shutters: Please do NOT wind up all the way otherwise they will not wind down again unless you go outside and have someone stand on your shoulders to give a tug down … now why do that?
20.Turn Off All: Lights, air conditioner, ceiling fans and appliances before checking out.
21.Doors & Windows: Please ensure all are locked before you checkout.
22.Boat & Motor: Ensure these are chained and secure before checking out.
23.General State: Please try to leave the property reasonably as you found it as additional cleaning fees apply.
24. These Terms and Conditions take precedent over anything else generically contained on this website as we cannot control all the content.
APPENDIX A
2016 PUBLIC HOLIDAYS (WA)
New Year's DayFriday 1 January
Australia DayTuesday 26 January
Labour DayMonday 7 March
Good FridayFriday 25 March
Easter MondayMonday 28 March
ANZAC DayMonday 25 April
Western Australia DayMonday 6 June
Queen's Birthday #Monday 26 September
Christmas DaySunday 25 December
Monday 26 December
Boxing DayMonday 26 December
Tuesday 27 December
2016 SCHOOL HOLIDAYS (WA)
Term Break 1- Saturday 9 April, - Monday 25 April, 2016
Term Break 2 - Saturday 2 July, 2016 - Sunday 17 July, 2016
Term Break 3 - Saturday 24 September, 2016 - Sunday 9 October, 2016

APPENDIX B - BOAT – OPERATING INSTRUCTIONS & TERMS OF USE
Equipment List
1 x "Quintrex 340 Cartopper" 3.5m, aluminium dinghy
2 x plastic bungs in glove box (these look like short black cork screw plugs)
1 x "Little Bulldog", folding boat trailer (chained and padlocked to the waist high metal fence)
1 x "Honda" 4 stroke, 2 HP outboard motor
2 x wooden oars (in carport)
1 x aluminium and plastic paddle (in carport)
2 x metal rowlocks (in the boat; the oars sit in these)
1 x metal sand anchor and chain (in the boat)
1 x red plastic 5 litre fuel container with spout (inside metal cabinet in carport)
1 x white 20 litre plastic bucket (in the boat)
2 x child's life jackets (inside metal cabinet in carport)
1 x metal chain and padlock (to secure trailer)
2x crab nets (in carport)
1 x short fishing rod, reel, line and tackle (in carport)
1 x tackle box with assorted items (inside metal cabinet in carport)
INSTRUCTIONS
To Start:
1.Ensure there is fuel (minimum 91 octane unleaded petrol)
2.Attach one end of the red clip cord to your wrist and the other end to the motor.
3.Turn on the fuel by sliding the fuel lever at the left hand side of the motor from right- to- left.
4.Open the fuel cap vent
5.Open the choke lever at the left side of the motor
6.Pull cord
7.Once motor is running close the choke
Putting Boat In Water:
1.Ensure both bungs are screwed in at the very rear of the boat
2.Untie the side rope that helps to hold the boat onto the trailer
3.Release the winch and the pin from the boat so it slides backwards
4.Reverse the boat trailer into the water to a sufficient depth that it will float
5.Guide the boat off the trailer
6.Go park the car and trailer whilst someone else outside the boat holds the rope so it doesn't float off
To Stop:
1.Remove the red clip from motor
2.Close fuel lever
3.Close fuel vent
To Reverse:
1.Stop motor
2.Close fuel lever
3.Remove combination lock (code 6210)
4.Turn throttle handle 180 degrees so as to operate with other han(URL HIDDEN) PTO
5.Open fuel lever
6.Open fuel cap vent
7.Pull cord
8.Remember to re-secure the motor with the combination lock once finished reversing (code 6210)
To Clean:
1.Clean the boat in the same grassed area as where you found it.
2.Raise front of boat trailer so boat slopes downwards (backwards)
3.Remove both bungs and stow in glovebox
4.Hose boat liberally with fresh water inside and out
5.Hose all equipment
6.Position the 20 litre white bucket under the propeller and fill it
7.Start the engine and let it run with propeller turning for 30 seconds
8.Remove the bucket and dispose of the water onto the garden or lawn
9. Secure the trailer with chain and padlock
IMPORTANT – THINK SAFETY FIRST & USE YOUR COMMON SENSE !!!!!!!!!!!!!!!
1.Do NOT go into the ocean as it is a very small boat
2.Check the forecast and do NOT go out in poor or windy weather
3.You accept ALL RISK and RESPONSIBILITY for everything that occurs whilst transporting and or using the boat.
4. 4 people maximum at a time
5.Move around slowly and deliberately as boat can overturn
6.Do not all congregate on one side or you may tip over
7.Stay well clear of larger vessels
8.Running aground may break the propeller and a sudden stop could maim or kill
9.This boat has no lights so come back to shore before dark !!!
10.Read the navigation sticker on the boat and observe the rules !!!
11.Check your fuel supply regularly and don't go too far or you might not make it back
12.Bring the bailing bucket
13.Bring plenty of fresh water and sun protection
14.Carry a charged mobile phone on board that is kept in a sealed bag or container
Closest Public Boat Ramp: "Mandurah Ocean Marina Mandurah"
Courtesy:
1.Replace whatever fuel you use
2.Immediately report to the owner on (PHONE NUMBER HIDDEN) regarding any equipment you may unfortunately lose or damage as it may be agreed for you to replace it yourself before you check out (particularly should another guest be arriving imminently), rather than having your security deposit deducted
ENJOY!
---
---
Willagee, Australia
·
Membro da Dicembre 2015
A financial services professional and musician who works hard to improve the lives of others whilst enjoying family, friends and entertainment.
Tasso di risposta:
100%
Tempo di risposta:
entro un'ora
Esplora altre opzioni a Mandurah e nei dintorni
Altri alloggi disponibili a Mandurah: